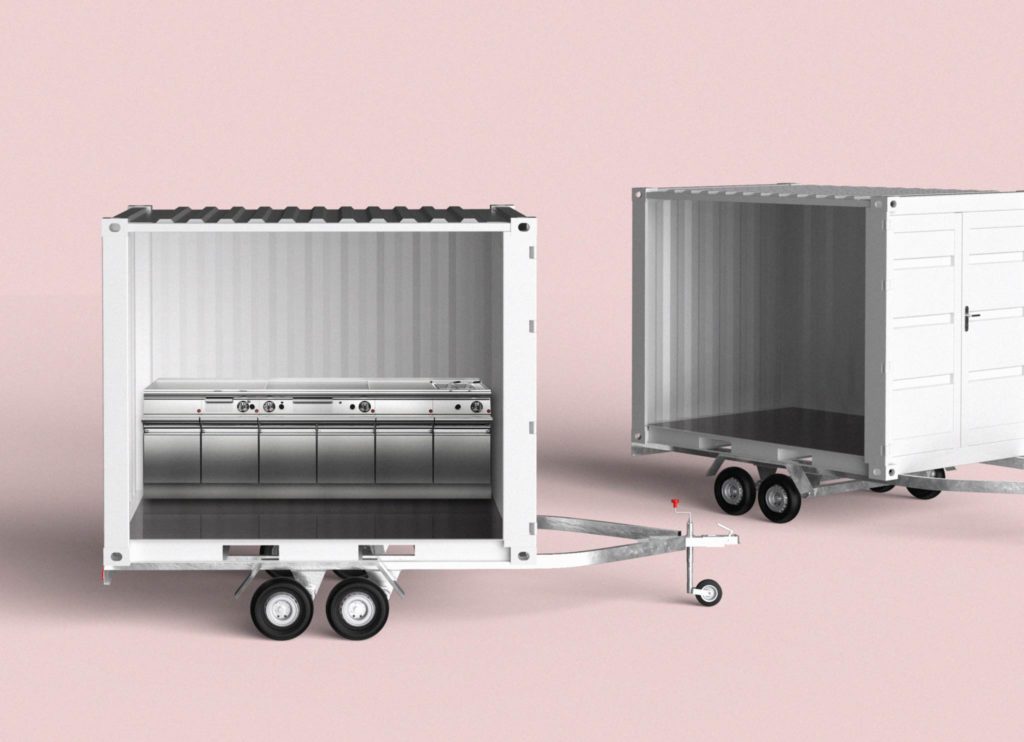 You want to buy a sales trailer and are planning your own food truck business, but have not yet decided whether you will take the design and interior construction into your own hands or whether it will be a turnkey food truck?
Which variant is the better one for you depends on whether you have the motivation, time and above all the craftsmanship to build your own food truck.
You don't want to do everything yourself, but rather leave the construction to professionals and focus your creativity and time on your culinary creations and guests? In this article, we will show you how the two options work.
So if you are still unsure which way is the right one for you, after reading this article you will be a lot closer to making your decision.
Instead of buying a turnkey food trailer, finish the interior fittings by yourself?
An authentic food truck business should always be an expression of your creativity and personality. Would you like this to start with the interior design and want to go the DIY route?
If you've never done something similar, you may be pleased to hear that there are some food truck owners who have already built their own sales trailer without any special expertise. But on the way to a street food truck that is ready to go, there are some stumbling blocks waiting for you if you approach the matter without good planning and insider knowledge.
Built your own food truck kitchen – this DIY project requires a certain know-how!
You want to upgrade and convert our walkingboxes made of freight containers, a step-van or an Airstream trailer? For the perfect reconstruction and fitout you need above all craft skills. But that's not all, because the interior of your sales trailer has to follow certain hygiene guidelines, for which expertise is required. Let's put it this way: If you want to manage the design and interior work of your mobile kitchen yourself, you have big plans. Please do not underestimate this project!
But if you have above-average manual skills, technical understanding and access to the necessary tools and time, the DIY food truck may be an exciting challenge for you.
The interior design of your sales trailer
The food trailer in which you want to prepare your food should be perfectly tailored for later use. The following questions arise from the beginning: Will you offer your food predominantly at large or only small events? Or will you focus on the lunch menu at different locations?
The interior design and furnishings of your food trailer will depend on your project. What would you like to offer later? The preparation of your street food creations requires a certain amount of equipment, for example:
A robust work surface that offers sufficient space for the preparation of the food
A sink area, with a separate sink and hygiene package
A fridge to keep prepared street food fresh and drinks cool
One freezer unit
A griddle plate, deep fryer, bain-marie or other kitchen appliances that help you to prepare food quickly and easily in your food trailer.
Which equipment you need depends on your food concept
Whether you offer Neapolitan pizzas from the stone oven, Belgian waffles or mobile star cuisine – the devices you use to prepare your street food require space. Well thought-out equipment is the be-all and end-all. What do you need and where are the appliances best placed?
Get all the measurements and technical details for each device you want to install in your mobile catering unit and design a layout in which you assign each device its place. When designing the kitchen layout, make sure that you can prepare your food later efficiently and without jams in the preparation area.
If necessary, get advice from an expert for a flat-rate planning fee or rebuild your planned interior with cardboard boxes or anything similar and test the smooth preparation of your food. We at walkingboxes will also be happy to give you tips for a successful DIY interior design, so that you can satisfy all your customers at full operation and that the food distribution runs smoothly. You can arrange a consultation appointment with us here: calendly.com/walkingboxes.
More profit through efficient design of your mobile kitchen
How many guests would you like to serve? If you want to take your food truck mainly to festivals, you need staff. Therefore, a different size and fitting is necessary in comparison to food trailers that are used for lunch or catering. At large events, one person often stands at the grill while the other takes care of the preparation of the food and a third person takes orders and collects the money.
Good organisation is required in a confined space. Plan enough space for freedom of movement so that you and your staff do not get in the way. An efficient design of your mobile kitchen is crucial for your future profits. The more food you can serve out of the sales window perhour, the better!
Your food trailer needs at least one energy source
Your food trailer needs at least one mobile energy supply if you want to offer your food flexibly at festivals, weekly markets, in industrial areas etc. The correct electrical installation is extremely important, because the operation of your future business depends on it and a non-professional installation can quickly endanger lives. If you are not quite sure what you are doing, be sure to get help from an experienced electrician.
Gas or electricity?
Are you wondering whether you should run your food trailer with gas or electricity? If you are planning to cook in enclosed rooms or halls, you should choose electricity, because gas is usually not permitted here. However, if you are outdoors, you can combine gas and electricity and use gas for heat and electricity for cooling. Our walkingboxes sales trailers are always equipped with a splash-proof power fuse box, even without interior fittings.
Are you unsure whether you also need an emergency power generator? In 98% of the cases this is not necessary, because electricity is accessible, as long as you don't offer your street food mainly on wide green meadows. In addition, emergency generators can be noisy and take up a lot of space, thus a mobile generator is an alternative.
And where does the water come from?
Water supply and disposal (drinking water / waste water) is also an important issue. If there is no permanent connection to the municipal water supply, you need a mobile water supply from a fresh water system consisting of a tank, pipes, a pump, a boiler and a water fitting. Here too, you will need space, which you should take into account when planning your mobile kitchen. The water system must also be operated hygienically to guarantee the quality standards of your street food and to avoid health risks for your customers.
The local hygiene guidelines
Hygiene is a very important issue in gastronomy. For the fitout of your food trailer, you must therefore comply with certain hygiene regulations, which are strictly regulated in Germany. If you violate this, you have to expect fines and sanctions!
Requirements for your mobile kitchen:
On the one hand, there are certain requirements for your food trailer in terms of the materials used, the built-in parts and work surfaces. Here are some of them:
The transmission of pathogens by animals and pests must be avoided by, among other things, ventilation openings closed with protective grilles.
Adequate personal hygiene must be ensured for both you and your employees.
All surfaces that come into contact with food must be kept hygienic and therefore easy to clean.You should use materials that are as smooth as possible, impermeable to water and non-toxic.
Certificates:
On the other hand you need certain certificates:
You need a confirmation for a professional handling of food. Besides you and your employees are obliged to complete a food hygiene training course if perishable food is processed and considering you or your employees have no training in gastronomy or food technology.
In addition, you must always carry certain hygiene documents in your food truck. These include a certificate from the health authorities if animal products are processed and a hazard identification and assessment plan showing how often the temperature of the goods are measured.
You can find out what the exact legal requirements are in your region from the Chamber of Industry and Commerce or the responsible health department.
Take off with our walkingboxes food trailer in a sustainable and turnkey way
If you want to carry out the interior work yourself, you need to be well informed, calculate,plan and work out everything down to the smallest detail in advance. This idea alone gives you a headache? Understandably so, because a DIY food truck project demands a lot!
Alternatively, you can make your dream of independence come true with a brand new ready-to-go food truck. If you would like to buy an industrial looking sales trailer and prefer to leave the fitting out to professionals, then you're at the right place. At walkingboxes you not only get food trailers from ship containers to build and design yourself, but also full service!
Plan your mobile kitchen together with the gastronomy experts at walkingboxes
Our experts will be happy to plan the kitchen of your food trailer with you, so that you can focus entirely on your street food creations and your food truck concept. We can supply you with all the individual components needed for mobile cooking – with kitchen equipment from renowned manufacturers and high quality stainless steel. And if something should ever be defective, we will make sure that you get the right spare parts for your kitchen appliances quickly and over a long period of time.
The planning of the kitchen is of course carried out by us strictly according to the requirements of the German hygiene law, so that you do not have to worry about inspections by the authorities despite the regional differences in Germany. Basically, you only have to worry about the nice things, the choice of colours and the design of your food trailer.
Design your sustainably produced food trailer with our online configurator
The sales trailer of walkingboxes can be designed according to your individual needs. We offer you a wide range of design options for your food trailer, so you can give your creativity full scope. Would you like to buy a sales trailer? Then try out the configurator on our website, with which you can define the colour, illustrations and branding on the exterior and kitchen of your sales trailer. You will also receive a free design proposal from us (note: this offer is limited in time).