With the rising temperatures and the first rays of sun pushing through the cloud cover, the streets, parks and avenues become noticeably alive. Spring is the most beautiful season for long walks, which we love to enjoy with a delicious snack in hand!
Springtime is street food time. And since spring is also symbolic of new beginnings, now is the perfect time to refresh your food truck menu. We've found 4 street food trends for you to make the first sunny days of spring even more enjoyable for your guests.
Fusion Cuisine – A Mashup of the most delicious recipes
Fusion cuisine, also called fusion cooking, fuses different flavours from all over the world and is a popular street food trend that is being taken up by international chefs.
Fusion cooking involves reinterpreting delicious recipes and combining different food arts. For example, in Korean-Mexican fusion cooking, BBQ and kimchi from Korean cuisine come together with typical Mexican flavours.
Fusion food is just the right thing for your menu if you want to leave your guests with new taste combinations. There are no rules in fusion cuisine, which gives you plenty of room for your own imaginative fusion dishes – perfect for all food truckers who like to experiment.
Exquisite street food with a long tradition
Fusion food often emerges against the backdrop of migration and colonialism, such as Chinese-Peruvian cuisine: Chifa dishes are a creation of the Chinese immigrants to Peru in the 19th and 20th centuries and are prepared with traditional Peruvian ingredients and Chinese elements. The dish "Arroz Chaufa" is a popular Chinese-Peruvian wok dish with chicken.
The empadinhas of Portuguese-Brazilian fusion cuisine also have a long tradition and are a product of Portuguese colonial history in Brazil. The small delicious pies are shaped like muffins and are made of shortcrust pastry with a savoury filling. In Brazil, empadinhas are usually filled with chicken, shrimp, cheese or vegetables. The shortcrust pastries harmonise with a wide variety of flavours and therefore leave you plenty of room for experimentation. Bom apetite!
Tamales from the ancient Mayan kitchen
Tamales are a traditional dish from Mexico and originate from the cuisine of the ancient Mayan culture. The delicious corn pockets have a crispy crust, juicy ingredients and are a popular snack in Mexico as well as many other Latin American countries, sold on every street corner.
Tamales are made from corn dough, the so-called masa, and filled with a wide variety of ingredients. In addition to variations with meat, vegetarian or vegan tamales also taste great. The Mexican speciality is not only available in savoury, but also in sweet with fruit, cream cheese and dulce de leche (Spanish for "sweetness of milk", a cream made of milk, sugar and vanilla) – ingredients that form a wonderful liaison with the spring weather.
After the corn mixture has been filled, it is wrapped in plant leaves (usually banana or corn leaves) and steamed. When the dough has reached a cake-like consistency, the tamales are ready to eat.
Neapolitan Pasta Frittata
Italian cuisine is known for delicious food and is very popular in this country. But unlike traditional pizza and pasta, you can offer your guests something very special with pasta frittata.
Pasta frittata are small pasta balls and a speciality of traditional Neapolitan cuisine. In addition to cheese, eggs and pepper, the pasta omelettes often contain a creamy bechamel sauce and other ingredients such as ham and vegetables.
You can make pasta frittata with all types of pasta. Whether with spaghetti, penne or macheroni – the crispy Neapolitan classic baked in the pan is the perfect street food for your food trailer, as it is quick to prepare and can be eaten without cutlery.
By the way, traditionally the crispy pasta omelettes were made with leftover pasta from the day before. The next day, the already cooked pasta was then simply mixed with eggs and cheese and then fried.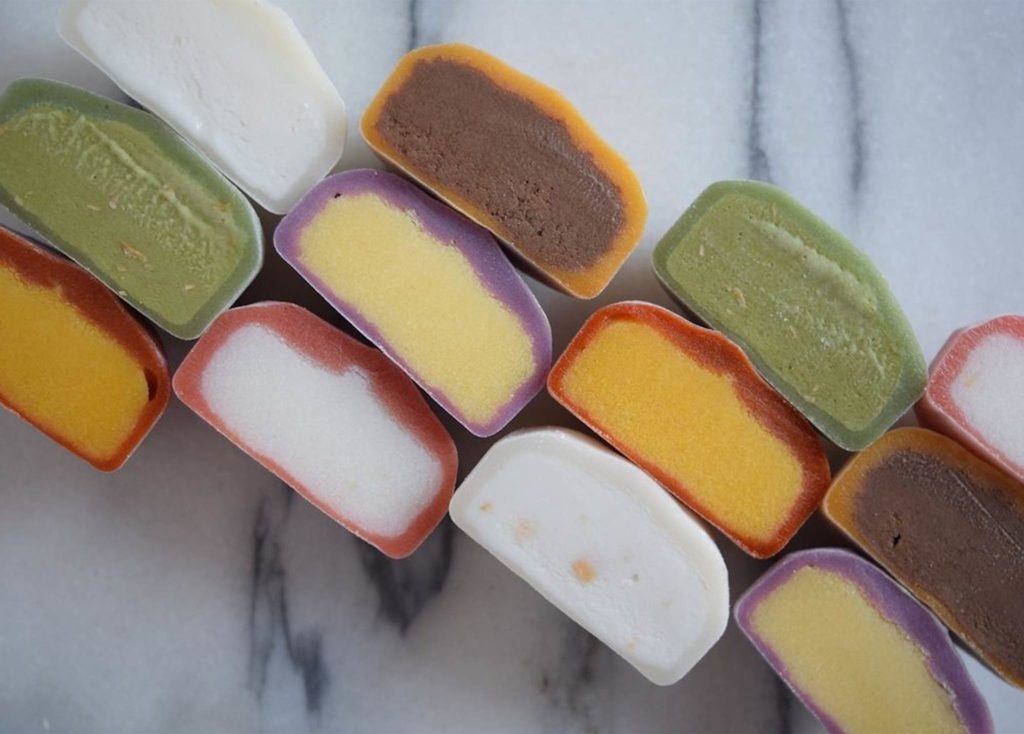 Japanese mochi ice cream: A low-calorie refreshment on warm spring days
Mochi ice cream is a delicious and healthy ice cream speciality from Japan. The small soft, colourful scoops are traditionally eaten at New Year in Japan. We believe that with mochi ice cream you can treat your food truck guests to a sweet refreshment at any time of year – especially on warm spring days!
Mochis have a soft pastry shell made of glutinous rice paste, which gives the snack its typical shape. In Japan, mochi come with a wide variety of fillings, such as chocolate, peanut butter, red bean cream, fruit jelly or ice cream.
The ice cream filling is based on coconut milk. This makes the small colourful scoops not only vegan, but also a low-calorie alternative to classic ice cream and gluten-free. The Japanese delicacy is available in various flavours: Besides strawberry, mango and coconut, there are also more unusual varieties with salty caramel, black sesame or matcha.
Have you already found the right location for the sale of your spring menu?
In addition to a street food menu that makes you want more, another factor plays a decisive role in your success as a food trucker: the location of your food trailer. Here we show you what to consider when choosing the location of your mobile kitchen and which locations are particularly suitable for serving your spring creations.